We want to help you celebrate Halloween this year in the best way possible, so we've stocked our shelves with decor, books, games, costumes, and music to help you do so!
Books
The Teeny Tiny Ghost by Kay Winters
Each day the teeny tiny ghost goes to haunting school to try to become scarier. It's hard work, though — especially since he's frightened by his own screams! Then, one bat-black October night, the teeny tiny ghost is floating in his teeny tiny home when he hears a RAP TAP TAP on the door. And then he knows it's up to him to keep himself and his teeny tiny cats safe. But what are the chances that a teeny tiny timid ghost will really be able to scare someone away?
AlphaOops! H is for Halloween by Alethea Kontis
H gets top billing — but a stubborn B has something scary to say — as the inside-out alphabet gives a howl-arious Halloween performance.
Ack! It's time for the show, and A isn't ready. But then again, Halloween can only start with one letter, no matter how the A-B-Cs normally go! The misbehaving alphabet is back, and there's no telling who will take the stage next. Z for zombie? P for pirate? Will X think of something good in time? Neon-bright, comically detailed illustrations show a cacophony of costumed letters, each with a mind and personality all its own. Along the bottom, tiny pumpkins arrange the players in proper order, making this alphabet story letter-perfect for Halloween.
Music
Have you signed up for our third annual Creepy Concert yet? Don't forget to do so before Friday! For more information about the Creepy Concert and how to sign up, click here. Also, don't forget about our great supply of Halloween music in the music department!
Games
Murder Mystery Mansion: the Classic Whodunnit Game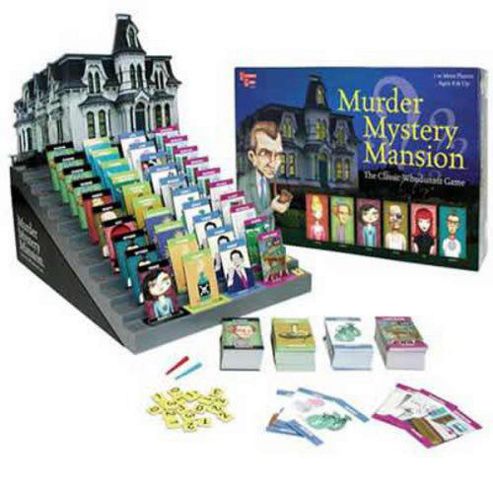 Put on your inspector caps, and let the mystery begin! On a dark and rainy night, a man goes into an old mansion–then he mysteriously vanishes into thin air. Was he a victim of foul play? Or just in the wrong place at the wrong time? Your job is to find out what happened to him. Play in teams to solve the mystery using simple deductive reasoning.
To solve the mystery a good detective needs to answer 4 questions:
Who did it? Which or our suspects did the dirty deed? Amber, Eugene, Venus, Rusty, Lily, Spider? The villain changes every time you play.
How did they do it? Was it with cyanide? Shot? Stabbed? Electrocuted? Pushed down the stairs? Tortured with a venomous snake?
Why did they do it? For love, money, power, jealousy, fame, or revenge?
Where did it happen? The bedroom? The garden? The game room? The closet? The kitchen? The bathroom?
The quicker you solve the murder, the faster you win!
For 2 or more players, ages 8 and up.
Zombie Fluxx: the Ever-changing Zombie Card Game
The dead are returning to life! So what are you going to do about it? Grab a chainsaw? Barricade the windows? Start a zombie baseball team? Draw a card, play a card. Try to kill the zombies that are keeping you from winning…until someone changes the rules and suddenly you might actually want zombies! It's the Fluxx game where zombies change everything.
For 2-6 players, ages 8 and up.
Costumes
A few years ago, the Book Table added its name to the list of Halloween costume vendors in Cache Valley, and we have taken this job quite seriously.
Come in and take a gander at our fun selection of Halloween costumes for all ages!
…and don't forget about the annual Halloween Treat Walk in Downtown Logan from 10 am-4 pm on Friday October 31. Our employees will be dressed up and handing out candy with the rest of the shops on Main Street, so be sure to bring your kids by for an extra treat!